Κέντρο εκμάθησης
Καλώς ορίσατε στο σύστημα τεχνικής υποστήριξης της BotGuard
Γνωσιακή βάση της BotGuard
Welcome to BotGuard's new Traffic Explorer
Explore your web traffic in real time to understand what types of visitors are generating an unnecessary burden on your server resources and traffic costs.
Our new Traffic Explorer allows you to analyze your traffic in real time and understand the different types of visitors browsing your site. This new measurement tool will provide highly valuable and personalized data, eliminating the guess-work and aiding in the decision making process of optimizing your current business model. Estimated savings are calculated assuming that traffic generated by bad bots would be blocked by the BotGuard Bot Management service.
Armed with the information, you can take steps to mitigate the dangers and cut costs significantly.
Main features
Find out how much you're spending on unwanted bot traffic
Calculate potential savings based on BotGuard's Bot Management service
Affordable and customizable subscription plans for all types of Website owners and Hosting Providers
Easily find all the stats about your traffic in real time
Distinguish between the types of visitors and view their distributed traffic share
Monitor traffic patterns and gather data during traffic spikes
Gain valuable insight into where the visitors are coming from (traffic source)
A pre-configured and ready-to-run "bare metal" server for installation in a 19″ rack
Or, a virtual machine image (virtual appliance) that can be deployed on any server
Both versions allow you to analyze web traffic without affecting end-user experience or server performance
Do You Know How Much You're Spending on Unwanted Web Traffic?
Parasitic traffic accounts for 10-50% of all web traffic worldwide. This means that on average 1 in 3 visitors to a site is the "bad" kind.
Left unmanaged, growing bot traffic consumes significant resources from the web hosting server, slowing down your website's overall function and degrading the end-user's experience.
In fact, most website owners and web hosting providers are paying for additional server resources in order to accomodate the 30% of unwanted traffic on their infrastructure.
So How Does It Work?
The BotGuard Traffic Explorer appliance contains several software components installed on top of a common, specially configured OS (Debian Linux). One of the components provides a web interface to manage the device itself and analyze statistics; the other is a traffic analyzer engine.
The engine monitors the dedicated device network interface for mirrored web traffic and analyzes the network data in the same way as the BotGuard Bot Web Traffic Management service does. Each web request is analyzed for its source, reputation, and software fingerprints, then it is categorized and logged for further use.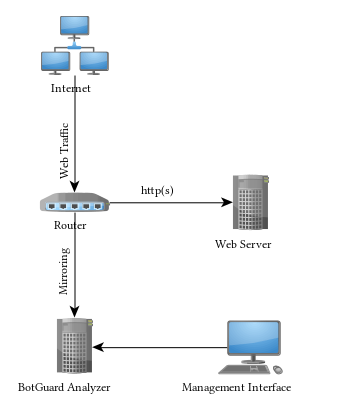 Since most traffic these days is encrypted (SSL), deep request inspections are not performed. Unlike the BotGuard Bot Web Traffic Management service, which operates with decrypted traffic, the Traffic Explorer makes approximations in order to provide a more complete picture. In turn, some categories which the Bot Web Traffic Management service detects are not detected by the Traffic Explorer (e.g. malicious requests and behavior violations).
The BotGuard Traffic Explorer web interface provides a variety of web traffic analytics for any chosen period of time, including:
Total amount of web requests
Web requests, performed by "bad" bots
Web requests, performed by "good" bots
Estimated savings on traffic & resources
Traffic sources (location, internet provider, etc.)
Traffic consumers, such as the websites most affected by bots
Request a demo to learn more!
Would you like to understand more about the Botguard Traffic Explorer?
Click the button below to get in touch.
Request a demo